E2 Roofing Jacksonville
We are a roofing company with integrity to service
Whether it's a new roof or a roof repair in Jacksonville, our team is here and ready to help you. Our company comes to the table with over 50 years of combined industry experience. We are a GAF Certified Residential Roofing Contractor, a certification that only 5% of roofers hold nationwide. We will help you repair or replace your roof in a timely manner so that you can protect your most valuable treasure and investment – your family and your home. Contact us today for a free roof inspection and quote.
ROOF
REPAIRS
Whether you have an emergency roof leak as a result of storm damage or a minor roof repair that you have been putting off, we can help. Give one of our experts a call and we will help you navigate through your roof repairs, including helping you with insurance claims, if needed.
ROOF REPLACEMENT
If your roof is more than 15 years old or you have been recently told via a home inspection that your roof is aging, it may be time for a total roof replacement. Contact one of our friendly team members and we will help you get your roof replaced in a timely manner.

"E2 [Roofing] recently replaced my roof. They stayed in constant communication with me throughout the process. They scheduled me quickly and were constantly coming by to check on the progress of their installers once they started. They even covered the cost of putting my dog in daycare due to the high volume of noise. I really appreciated that as my dog definitely would not have handled it well.
They also did a great job cleaning up. I would definitely recommend them!" – E Stevenson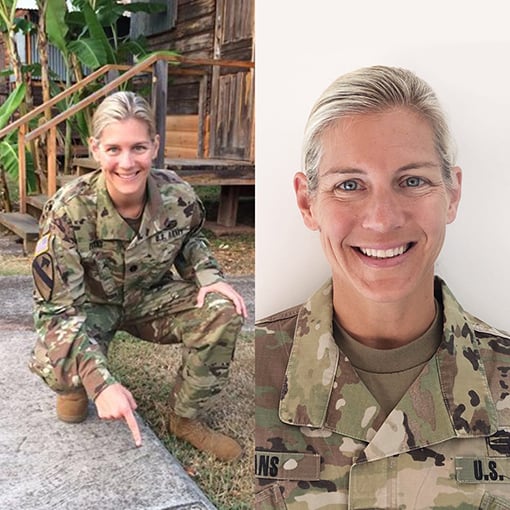 MEET OUR OWNER

Founder and CEO
Elizabeth founded E2 Roofing (Formerly E2 Design and Construction) in early 2017. A business leader and entrepeneur who has called Jacksonville her home for the past 10 years, she has worked as a construction management professional managing over $300 million worth of vertical construction. She found her passion for construction while studying civil engineering at West Point. Currently, Elizabeth also serves our country as Colonel in the National Guard.